Hey,
This is Donnie Donburi. I love to eat and explore the places of where I am; but why keep it all to myself? I will be periodically using the blog to tell my fellow Donburiers what is going on in my life and share my food moments with you.
So I've finally made it to our company's little shop up at 505 Highway 7 East unit 93-95, Markham, Ontario, Canada and I was super excited to try out the food here. So you could say this was a surprise inspection by yours truly. Hopefully they can satisfy me, their mascot extraordinaire and food ambassador.
I really like to decor here as it shows nice clean lines throughout and the open space give it a very communal feel.  The booths on the side also provide a little privacy for those who want some. There are red accents everywhere to give it an energetic feel but I find it very comfortable at the same time. It's also very nice seeing some of the action in the kitchen. It's also great to see my picture on the wall as I love shameless exposure.
So the nice server took down my order of the following items:
Salmon appetizer – the salmon was tasty with a crispy texture yet still moist in the middle, the teriyaki sauce semi-sweet and was not overpowering.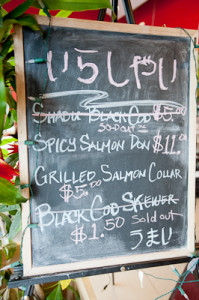 Shrimp tempura appetizer – the tempura was light, fluffy and just enough batter to cover the shrimp but not enough to make it seem like I was just eating batter; the tempura sauce was also light and subtly sweet so it compliments well with the shrimp.
Pork toro and Aspara Maki – there were equal proportions of asparagus and bacon and the skewer had the right amount of saltiness; as for the pork toro, it was seasoned perfectly with nice char flavours and still juicy from not being overcooked.
And lastly the Donburi specialty, the Gyuu Don, or beef rice as they say it in these parts of the world – the beef is addictingly good with a tender texture and melded really nice with the sweet onions as they are both cooked in the Donburi signature sauce; the rice also did not lose out as the rice was fresh and the right amount of sauce put in the rice made it very flavourful.
Service was very prompt and friendly and I had a pleasant time with them. They brought whatever I requested without any complaints. As for the price, I would say it's very reasonable for the amount I ordered and the overall dining experience was great. I will definitely be back and hopefully, I can make as many friends as I can to bring them here too to try out the food.
Address: 505 Highway 7 East, unit 93-95, Markham, Ontario
Phone: 905-597-6505
Website: www.donburi.ca
Food:
Decor:
Service:
Cost: